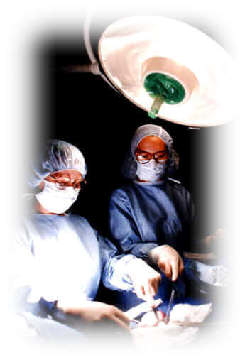 Outpatient Surgery is performed on a routine basis in all of our locations. We maintain cutting edge, up to the minute equipment and procedures at all five offices. So if you have a bone to pick.....no problem.

The Gentle, Caring touch we add to our Health Care can be matched by no one.
Beginning this year we will be carrying a full line of Caskets and Funeral Accessories for both our opponents and ......God forbid.....any mishaps on our part.Ask about our "Try Before You Die" payment plan with three handy upgrade options to save your loved ones the dirty details. We will continue to operate and maintain our Tanning Salons with our patented "Pay as you Lay" Tanning Caskets just outside our offices adjacent to Dr.Mel Anoma's Skin Cancer Clinic for those patients with vanity in mind..